Wednesday, June 9, 2010
ARE YOU INTERESTED IN HELPING FIND MISSING CHILDREN? PLEASE CLICK HERE FOR MORE INFORMATION ON HOW YOU CAN HELP!!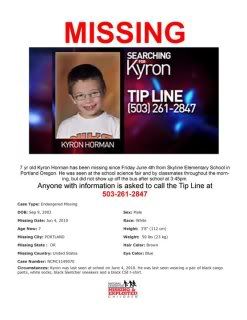 06/16/2010
Click Here for Pictures of Kyron
Click Here for Missing Person Fliers
Click Here to join Missing Kyron Horman on Facebook - Site is updated constantly
06/25/2010 UPDATE:
News Report: Family Interviews and Videos of Kyron
06/30/2010 UPDATE:
Page of links concerning Kyron
Posted by

.
at 11:30 PM
13 comments: